What do you do after passing the LET? You want to have yourself ranked in the Department of Education Division where you want to work. On this page, you will find the instructions on how to have yourself ranked and how to apply as a new teacher in the Philippine Department of Education system (DEPED ranking).
Before we go to the requirements, let's first talk about how you will be scored. It's important that you know this as early as possible so that you will know the impact of all the documents you include in your application.
DEPED Ranking Points Criteria
Your ranking score will depend on the following criteria:
Education – 20 Ranking Points
Teaching Experience – 15 Ranking Points
LET Rating – 15 Ranking Points
Specialized Training Documents – 10 Ranking Points
Interview – 10 Ranking Points
Demostration Teaching – 15 Ranking Points
Communication Skills – 15 Ranking Points
DEPED Requirements for Teacher Applicants 2023
For your education, teaching experience, LET Rating, and training sections, your ranking points will depend on the documents that you will provide as proof. The interview, demo, and communication skills will be given by the school heads on the day of the demo/interview.
Step 1: Obtain your Unique Applicant Number (UAN)
1. After the results of the LET have been released, immediately go to the DepEd application website: http://application.deped.gov.ph/
Related: DEPED Teachers' Benefits and Incentives 2023
2. Click on Apply to Create an Account: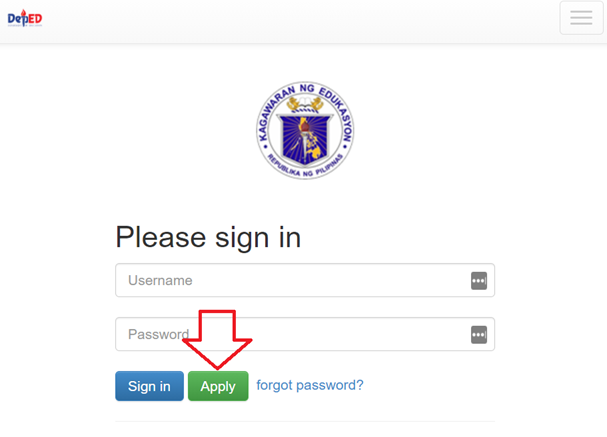 3. Fill out the fields required by the application process:
Please note that you will need one of the following requirements (ID Number) in this process:
TIN ID
GSIS
SSS
PhilHealth
Voter's ID
Postal ID
PRC License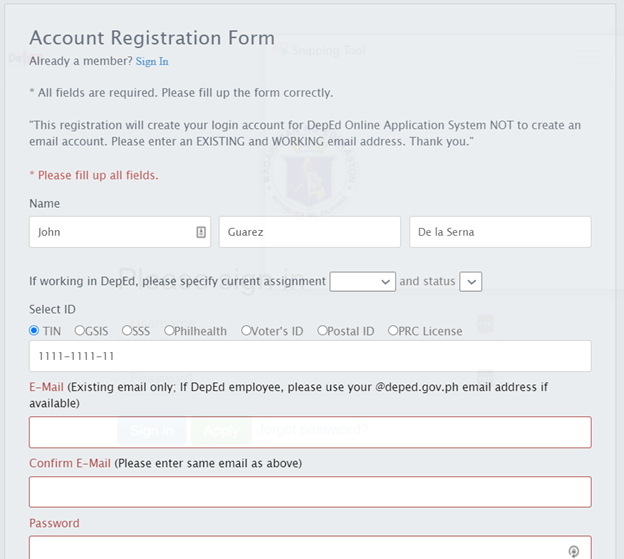 4. Verify your email address
Please note that it may sometimes take up to 48 hours for the verification email to arrive. Please refer to the FAQ questions below if you have not received your verification email.
5. Fill out online PDS and submit
After verification, there will be another online form that you will need to fill out inside your account. This is also the part where you will indicate the school district where you want to apply to. Schools will only proceed with your application if you live in the school district where you are applying to.
6. Take note of UAN
After submitting, you will be given your Unique Application Number. Take note of it for the next step.
Step 2: Start collecting the ranking requirements for application
It's best to start processing your documents for the application requirements while waiting for the verification email. When there is an opening in your local schools, you will be given between 10-15 days (Philippines Vacancy Publication Law) to submit your application. Because of this, you want to be ready with all the requirements as soon as possible.
Teacher 1 Application Requirements (3 copies of all documents):
Related: Teacher Salary in the Philippines
Folder (The color depends on the school division office)
In front of the folder, write the following:
These are the Pertinent Papers of
(Your Name)
for the Position of Teacher 1
Inside the folder, the first page must be the Omnibus Sworn Statement (below). The other requirements must be arranged according to their arrangement in the omnibus. If one of the requirements is missing upon checking, your application will not be accepted.
Omnibus Sworn Statement (Omnibus Certification of Authenticity and Veracity of Documents)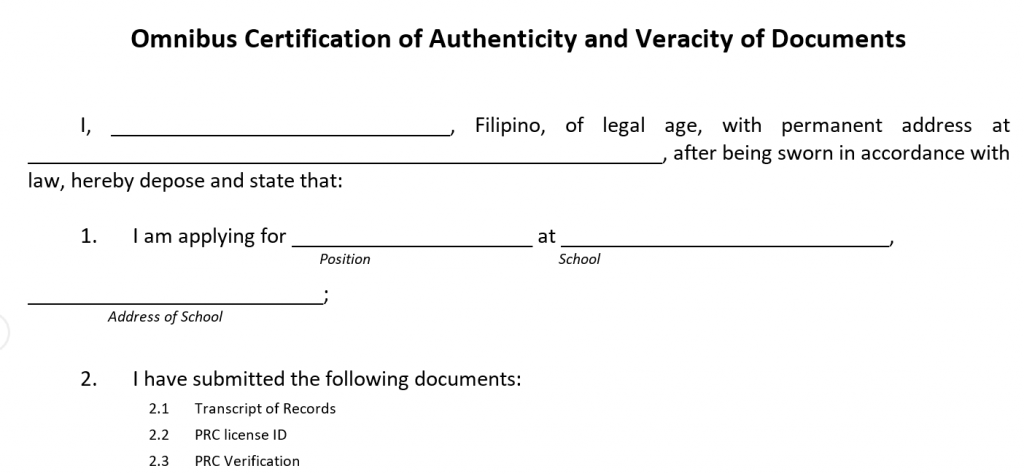 Related: Public School Teacher Bonuses/Incentives/Benefits in the Philippines
This is a document stating the authenticity of the documents that you are submitting. You may get this from the division office where you will apply. You will need to fill this out and this needs to be notarized by a notary public (lawyer).
Unique Application Number – This can be obtained by applying in the Online Deped Application System. You will add this in the PDS below.
Fully accomplished Personal Data Sheet (PDS) with recent 2 passport-sized pictures (CS Form No. 212, Revised 2017) which can be downloaded at www.csc.gov.ph; (include 2 2×2 ID Pictures if you want to make sure)
Photocopy of PRC Professional Identification Card
This can be obtained from the PRC after passing the LET and taking your oath.
Certified Photocopy of Board Ratings Sheet
This can also be taken from your local PRC office or satellite office. Go to your local PRC office for instructions on how to obtain this. In most cases, "Certified" means the photocopy of your LET rating is signed by an officer from the local PRC office.
Performance rating in the last rating period
This is applicable to people with prior teaching experience. If you submitted a certificate of employment from another school as a teacher, you may need to back it up with a document indicating your performance rating. If you don't have one, create a letter justifying the reason why this is so.
Certified Photocopy of Transcript of Records (From your school)
Photocopy of Service Record or Certificate of Employment (from your previous employer(s))
Photocopy of Certificates of Training (if applicable)
Having training documentation and certificates in your application will add up to 10 points to your ranking application. Accepted training types include:
CPD units,
TESDA certificates, – Must be related to your subject
Workshop and seminar certificates related to your subject, pedagogy, school management, etc.
Short online courses from respectable academic and non-academic institutions
Please note that seminar certificates dated before your graduation will not be counted (Except for TESDA and TESOL courses that are related to your course.)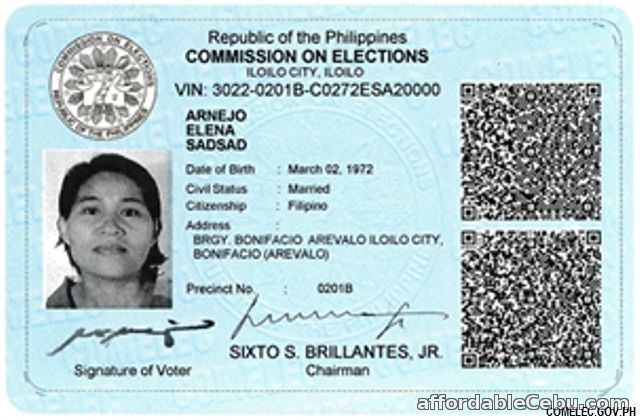 If you have one, get a photocopy of your Voter's ID. If you don't have one, photocopy any proof of residency in the school district. Please contact your local school of interest for the acceptable proof documents. Some may consider Certificate of Residency or Cedula as an acceptable alternative but this depends on the head of the school you are applying to.
Letter of intent to apply for the Teacher 1 position.
You may want to write a personal letter of intent. Include the following:
Statement of purpose/expression of interest
Track(s)/Strand(s)/Subjects(s) applying for
Preferred school(s), if any
When writing a letter of intent, make it personal and don't just copy the ones you see on the web. Some principals read this and base their decision on the effort put by the applicant on writing the letter.
A personalized letter of intent will make you stand out. It will also show your writing skills and this is valuable if you are a language teacher. When writing your letter of intent in English, use tools like Grammarly to improve the grammar and the writing style.
From your local NBI office or satellite office.
Watch this Helpful Ranking Requirements Video:
Additional Requirements for Senior High School Teacher-applicants
TVL
TESDA National Certificate (NC) of at least one level higher than course to be taught in subject to be taught (e.g. at least NC-III in SMAW to teach SMAW-NC-II)
Certified photocopy of Trainers Methodology Certificate (TMC), if available
Arts & Design and Sports Tracks
Certified photocopy of Certification of Proficiency/Recognition from recognized and respectable relevant associations/organizations/guild
HEI/TVI
Certified photocopy of Certification of Status of Employment/Service Record from HEI/TVI
After submitting your complete requirements, you will be notified about the schedule of the teaching demonstration and the interview.
When is the schedule for the demo, exam, and interview?
The exam, demo, and interview will be scheduled by the school or the division office. You will have to coordinate with them and wait for their message regarding the date and time of your demo.
Step 3: Ranking Interview
For the interview, you want to be prepared for the following types of questions:
Professional background
Instructional skills
Technology/computer skills
Classroom management
Knowledge of subject content and teaching materials
Lesson Planning
Community involvement
Office and professional relationships
During this stage, make sure to deliver your lines in a natural and confident manner. If you are an English teacher, answer in straight English. If you are a Filipino teacher, this is your chance to show off your Filipino-speaking skills.
Communication Skills:
You will get an English Proficiency test together will all the other applicants in the division. The score of this exam will determine your ranking score for communication skills.
Teaching Demonstration

You may also Like: