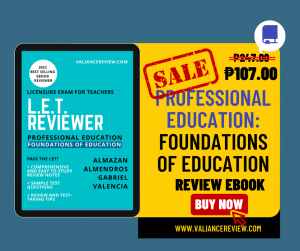 Welcome to the LETPasser.com – LET Practice Exam Page. We continue to create practice tests for the Licensure Exam for Teachers.
Take the time to practice your test taking skills. To pass the LET, you will need to take 150 items for three tests (Professional Education, General Education and your specialization (Secondary)). This will be a grueling experience if you do not train your mind in taking tests.
LETPasser.com offers a tool that will allow you to train your mind for this mental challenge:
Start Small: 10 Item Test in Professional Education
Professional Education Exam: 10 Items
How did you do? If you scored less than 70%, you need to review your notes some more and train yourself in answering LET review questions.
Here are some tips on how to manage your review for the LET Exam:
LET Review Tips
Practicing every day will help train your mind for the day of the board exam. Set a goal to answer at least 50 questions every day in professional education, general education and you area of specialization.
Get daily LET Review Questions
Review different topics every day
When practicing, do not stay on one topic for more than one day. Learn the basics and move on. You need to cover as much ground as possible when the day of the board exam arrives.
Around half of questions in the Professional Education and General Education will be about the most basic topics. These are the types of topics that a high school graduate must know. Study all the basic topics first before moving on to more complex topics.
When answering LET review questions, try to learn from your mistakes. When you make a mistake, don't just retake the practice test. Instead, try to find an explanation on why you made a mistake.
Learn as much as you can before the exam
Make the most out of your time when you are reviewing. Count the number of days before the LET board exam. You need to cover the basics of General Education, Professional Education and your area of Specialization in that time.
There is no point practicing if you are tired. You will be less focused and the effectiveness of your learning experience will suffer.
Reviewing for the LET: