April 2023 Civil Engineer's Board Exam: Filing Requirements, Schedule, Deadline, Coverage
The knowledge and skills you learned in college will be tested in the civil engineer's board exam. You will have to go through this hurdle if you want to become a licensed civil engineer. Before you can take the exam, however, you will have to apply in the PRC and complete your application before the deadline.
Check the step-by-step process below if you want to apply for the next civil engineer's board exam.
Table of Contents:
Who can Take the Civil Engineer Board Exam?
Before you can take the Civil Engineer Board Exam, you must first make sure that you are eligible. Check the list below:
Civil Engineer Board Exam Eligibility Requirements:
Graduate of Bachelor of Science in Civil Engineer from a PRC-recognized institution
At least 18 years old
Filipino Citizen
A person of good moral character
Must not have been convicted of a crime involving moral turpitude
If you are sure that you are eligible based on the requirements above, proceed to Step 1:
Step 1: Check the Application Date Period
First, you need to know the date of the next exam and the period for application. We try to keep the dates below as accurate as possible. If you missed the last board exam, come back to this page to check the dates for future board exams: 
When is the next Civil Engineers' Board Exam?
Next Exam: April 23,24 2023
Start of Filing/Application Date: January 23, 2023
Application Deadline: March 24, 2023
Step 2: Collect Your Information for the Online Application
Now that you know the date of application, you need to prepare for the online application. You can only start the online application when the PRC opens the online portal for Civil Engineers. This is only available during the application periods. Outside of this period, you will not find the Civil Engineer option in the list of available exams. 
To start the online application, you will need the following: 
Email Address
Mobile Number
Digital ID Picture saved in the computer (in jpg format, 2×2 photo with white background, collared attire, less than 6 months old)
 Scanned Copy or Clear Photo of your Cedula (Community Tax Certificate or CTC)
Other Personal Information (Name, Address, School Graduated, Graduation date, etc.)
If you have all of the requirements above, you may proceed to step 3:
Step 3: Start the Online Application
The online application is necessary to schedule an appointment in your local PRC office and to facilitate payment. In the steps below, you will have to choose Civil Engineer in the selection of exams. 

Note: Please take note that the website is sometimes down due to the high volume of traffic. For best results, please try signing up between 12 midnight to 7 AM 
Please be informed that the previous user accounts from www.prc-online.com are no longer active. Register a new account at online.prc.gov.ph.
2. Fill out the Registration Form, check the Terms and Conditions box and click the "Sign Up Now" button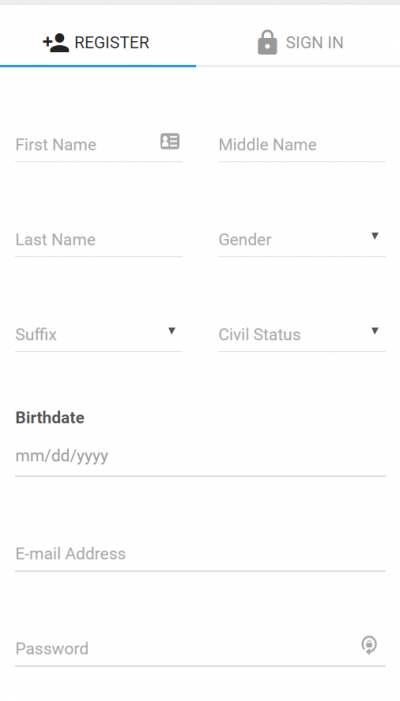 If you have already created an account on the LERIS portal before, , you can sign in using the "Sign In" tab. After typing your email address and password, click the "Sign In" button to start.
3. Log in to LERIS using the Sign In tab to complete your personal information details and submit the requirements
After a successful application, you will be able to log in using the email address and password you entered when registering. 
You will need the following once your are logged in:
Personal information

Cedula

The photo indicated above
After logging in, add your personal information:
LERIS Configuration: 
The Personal Information you need includes:
Name (First, Middle and Last)

Suffix (Mr, Miss, etc)

Gender

Single

Citizenship

Birthdate

Birthplace

Family Background (Mother's, Father's or Spouse's Name)

Employment Status

Community Tax Certificate Details (Cedula Number, Place and Date Issued)
When the information fields are complete, click the "Save Information" button at the bottom of the screen.
To complete the process, confirm the information you have entered. Check the spelling of your name because this can no longer be changed in the future:
Add your Photo
You will be able to add a photo to your PRC profile on the following page. Make sure that you already have a digital copy of a 2×2 photo with a white background on your PC. You should also be in collared attire in the photo. If you are wearing glasses in the photo, the photo will not be accepted. Those with long hair should also make sure that their ears are visible in the photo.
Sometimes, you may get an error when uploading a photo in the PRC online registration portal (LERIS). Your photo needs to be in the shape of a square to be accepted by the system. You can crop your photo to make it fit the requirements of the system or you could use tools like Canva to resize your digital photo.
Step 4: Schedule an appointment to the Local PRC Office
You will be able to schedule an appointment with the PRC Office of your choice through LERIS after you have completed your registration. 
To schedule a visit to your local PRC office, go back to your profile and click on the "Select Transaction" Button. This can be found in the sidebar on the upper right side of the screen:
By clicking on the "Select Transaction" button, you will open a pop-up with multiple tabs. Click on the Examination Tab as seen below:
After filling up the required information, click on the "Proceed" button in the bottom right part of the popup. It is at this point that you will be able to choose "Civil Engineer" for your examination type.
Another popup will show wherein you will be able to choose a PRC office location, date of transaction, and your preferred payment method:
Step 5: Make Payment in your Chosen Payment Method
After following the instructions above, a reference number will be assigned to your transaction. Take note of this reference number because you will need it when making the payment to your preferred payment option.
In our case, Land Bank Online Payment was the only available option. Through this payment option, you can pay using your ATM card and GCash. PRC does state that there will be more payment options on the way.
Regardless of your chosen payment option, you will need to keep a receipt of your payment as proof. Your LERIS will update automatically after a day of two of payment. 
Step 6: Go to the PRC Regional Office on your Schedule
BASIC REQUIREMENTS:
Civil Engineer Board Exam Requirements For Filing For First Time Test Takers:
1. Original and Photocopy of Transcript of Records (TOR) from your school with:
Special Order (SO)

Date of graduation

Seal of the school

Scanned picture

Remarks "For Board Examination Purposes Only" (CHED recognition and permit to operate for graduates of new schools / programs)
2. Original and Photocopies of Authenticated Birth Certificate (NSO)/ PSA Marriage Contract for female applicants
3. Receipt of Examination Fee (Paid through your selected payment option Step 5)
4. Cedula (Photocopy)
5. PRC Number (From the Information Section of the PRC Office)

Step 7: Prepare for the Civil Engineers' Board Exam
When you have the Notice of Admission or NOA, you are eligible to take the exam. To prepare for the exam, you must first collect your notes on all the subjects covered by the exam:
COVERAGE OF CIVIL ENGINEERS' BOARD EXAM
Mathematics, Surveying and Transportation Engineering (35%)
Algebra
Plane and Spherical Trigonometry
Analytic Geometry
Design and Construction of Highways and Railroads
Descriptive and Solid Geometry
Piers or Ports and Wharves
Differential and Integral Calculus
Highway and Railroad Surveying
Advance Surveying
Hydraulics and Geotechnical Engineering(30%)
Bearing Capacity
Fluid properties
Hydrostatic Pressures
Fluid Flow
Buoyancy and Flotation
Relative Equilibrium of Liquids
Hydrodynamics
Soil Properties
Soil Classification
Fluid Through Soil Mass
Stresses in soil mass
Soil strength and Test
Compaction
Consolidation and Settlement
Lateral Earth pressures
Slope Stability
Water Supply
Structural Engineering and Construction(35%)
Engineering Mechanics
Strength of materials
Theory of Structures
Analysis and Design of Concrete, Steel, Timber
Structures and Foundation with application of governing codes of Practice
Review Tests for Criminology
What is the Civil Engineers' Board Exam Passing Rate?
To pass the board exam, the test taker must score an average of 75% with no rating of less than 50% in the subjects enumerated above. 
What to Wear During the Exam?
To avoid headaches, you should also prepare the things you need in advance. This includes your clothes for the exam date. 
On the day, wear a white collared shirt with black pants and black shoes. 
Regional PRC Offices Contact Information
If you have concerns and you need help from the local PRC Offices, you may want to call them through these numbers:
NCR – [email protected]
BAGUIO – [email protected] Tel No. (074) 665-4338, 661-9105, 665-4335
BUTUAN – [email protected]
CAGAYAN DE ORO – [email protected] Tel No. (08822) 712-772
CEBU – [email protected] Tel No. (032) 2535330
DAVAO – [email protected] Tel Nos. (082) 234-0007 to 08 (082) 234-0006
GENERAL SANTOS – [email protected]
ILOILO – prc.iloilo[email protected] Tel Nos. (033) 3292730, (033) 3292733, (033) 3293705
LEGAZPI – [email protected] Tel No. (052) 4813079
LUCENA – [email protected] Tel No. (042) 3737316
PAGADIAN – [email protected] Tel No. (062) 9250080
ROSALES PANGASINAN – [email protected] Tel No. 09065686215
SAN FERNANDO – [email protected]
TACLOBAN – prc.taclobancit[email protected] Tel Nos. (053) 3239729, (053) 8322519, (053) 8322520
TUGUEGARAO – [email protected] Tel No. (078) 3040701
Do You Need Technical Assistance with Your PRC website account?
If you have technical concerns with the PRC websites including resetting your password, mismatched record edit, and other related concerns, you may email them at: